Why You Should Take Pictures After a Car Accident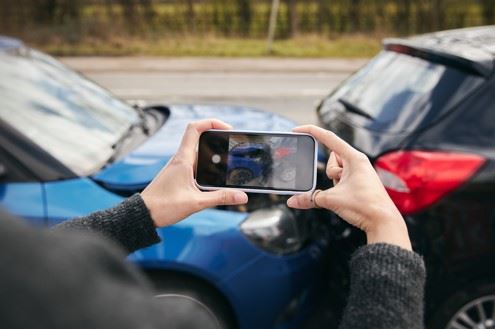 When filing a personal injury lawsuit, a victim has the burden to present the evidence that proves their claim. Often, this comes in the form of police reports, medical records, driving records, and the victim's testimony. There are also a variety of experts who can testify as to the causes of the wreck and the injuries, the extent of the injuries, and the numerous financial impacts the injury is responsible for. Perhaps most importantly, juries are also allowed to consider photographs presented as exhibits at trial.
Whether it is in negotiations with an insurance company or presented to a jury during the trial, photos are an incredibly powerful weapon for a victim. Unlike voluminous medical records—which can be hard to read and decipher, photos tell an immediate and compelling story. Simply put, most records and even testimony from experts cannot compare to the visual impact of a photograph or video.
How Do You Take Accident Scene Photos?
When it comes to car accidents, numerous photos should be taken as soon as possible. If you are not physically able to take photos, then ask someone else at the scene—such as a passenger in your car or a witness. Be sure that the person who takes the photos sends you their contact information.
Solid photographic evidence should capture:
the scene
the road and weather conditions
the position and state of the vehicles
other involved vehicles
the contemporaneous physical state of yourself and the responsible driver
There isn't another opportunity to capture these images as police and firefighters are tasked with allowing traffic to resume.
If you are unable to get contemporaneous photos, then get photos of the area where the wreck occurred as soon as possible. Also, get photos of the damage to your vehicle and your injuries. Since injuries heal over time, it is important that a jury can visibly see how badly the wreck injured you.
In general, you should do your best to take photos from a wide variety of angles and distances, including 1-5 feet away and 10-20 feet away. You can help demonstrate distance and scale in your photos by keeping a common landmark visible in each picture.
Should Photos Be Taken for Insurance Purposes?
While photos may come in handy when making a claim with your insurance company, it's best to always speak to a lawyer before sharing your photos with the insurance company. If you end up going to court against the insurance company, it's important that your attorney have a sense of what evidence you have or haven't shared with the insurance company.
Do Cops Take Pictures of Car Accidents?
In some cases the police may take photos of the accident to include in their police reports. However, they should not be relied on when it comes to filing personal injury claim. In many cases police officers take limited photos; their evidence may also not document your injuries or specific damages to your vehicle. This is why it's important that you take matters into your own hands following your accident and capture as much photographic evidence as possible immediately after your crash.
Contact Viloria, Oliphant, Oster & Aman L.L.P.
Viloria, Oliphant, Oster & Aman, L.L.P. is a full-service law firm that provides personal injury representation to victims of car and truck accidents. We provide award-winning representation and have successfully obtained millions of dollars in damages on behalf of our clients. You deserve an attorney who will listen to you, and fight for you to receive maximum compensation for your personal injury claim. If you have been seriously injured in a car accident, call us today to see if you have a claim.
Call Viloria, Oliphant, Oster & Aman L.L.P. today at (775) 227-2280 to schedule a free case consultation or contact our office through our website.