How Can You Stay Safe Over Labor Day Weekend?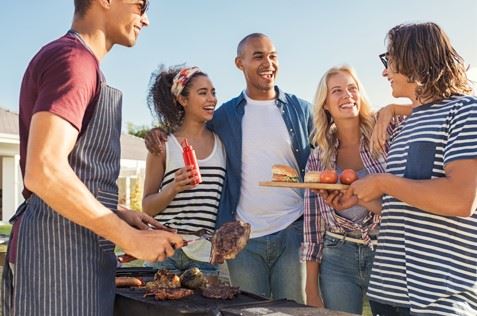 Labor Day weekend is on the horizon and many of us are looking forward to capping off the summer with one final outdoor get-together before the fall weather begins to creep in. As you begin to prepare for your upcoming backyard barbeque, picnic in the park, a trip to the lake, or beach party, keep some safety tips in mind to ensure your long weekend stays fun and free of preventable accidents.
Below is a list of some helpful Labor Day safety tips you should remember as you wrap up the season:
Road-trip Fun: Lots of people take the long weekend as a perfect opportunity to enjoy a fun road-trip. Unfortunately, this spike in traffic also leads to more accidents. According to the National Safety Council (NSC), approximately 400 deaths occur as a result of motor vehicle collisions over the course of the Labor Day weekend. If you are planning a weekend getaway, make sure you get enough rest beforehand, make time for rest stops, and divide driving duties if you can. Prior to your trip, have your car examined by a registered mechanic to avoid the possibility of a breakdown on the road. Lastly, you should always keep an emergency kit in your vehicle, equipped with items like a first aid kit, a tool kit, jumper cables, and a flashlight.
Firework Festivities: Fireworks and summertime go hand in hand. After all, they are bright, flashy, colorful, and a fun way to celebrate a season many of us tend to spend outdoors. However, they also pose some risks. According to the NSC, children between the ages of 10 and 14 are at a substantially higher risk than most age groups when it comes to sustaining a firework-related injury. Even something as seemingly benign as a sparkler can injure a child, so if you do choose to make fireworks part of your Labor Day celebrations, make sure you exercise caution. Never light more than one at a time, keep them at a safe distance from spectators, and never allow horseplay while they are either being set up or ignited. Do not attempt to re-light a firework that malfunctioned and never allow children to handle fireworks.
Alcohol Moderation: A fair amount of us enjoy drinking alcoholic beverages at parties, but it is important to be aware that doing so will impact your ability to make decisions, coordination, reaction time, and vision, which could all make you vulnerable to a number of accidents and mishaps. Set a limit on how much you plan to drink and stick to it. More importantly, never drink if you have to operate a vehicle. In the event that you do drink, use a ride-sharing service or ask a sober friend for a ride home.
Boat Safely: Boating activities are exceptionally popular during the Labor Day weekend and, while they are certainly a lot of fun, they can potentially be dangerous if you fail to take the right safety measures. Make sure the boat is in good mechanical condition and that it is equipped with proper safety devices and an emergency kit that includes a first aid kit. Before you get things started, make sure you are familiar with the rules of the water and tell someone on land where you plan on going and what time you plan on returning.
Food-Borne Illness: Another incredibly popular Labor Day weekend activity, of course, involves barbequing. After all, who would say no to something hot off the grill? Unfortunately, when you barbeque, there is always a chance of cross-contamination, given that you will be handling raw meat. Make sure you always wash your hands before and after you touch raw meat, dry your hands on paper towels instead of cloth towels, and discard them when you are done. Do not leave meat or poultry out in the heat. Instead, store them in a refrigerator until it is time to cook them.
Hydration and Sun Protection: Summer may be coming to a close, but that does not mean the weather has cooled down just yet. If you are having an outdoor get-together, make sure you stay hydrated with water, even while you consume other beverages like soda or juice. How can you tell if you are well hydrated? One of the most telling signs is actually the color of your urine. The more yellow it is, the more dehydrated you likely are. Not only will hot weather dehydrate you, it is also going to attack your skin. Make sure you apply sunscreen and continue to reapply it as necessary. This is especially crucial for the young and the elderly since they have the most sensitive skin.
Injured Over the Holiday? We're Here to Help!
If you sustained an injury that was caused by someone else's negligent or careless actions, you should obtain skilled legal representation as soon as possible to pursue the fair and just compensation you deserve. At Viloria, Oliphant, Oster & Aman L.L.P., our personal injury attorneys in Reno are backed by over a century of combined legal experience and a proven track record of success.
Get started on your personal injury claim today and contact our law office at (775) 227-2280 to request your free initial case evaluation with one of our knowledgeable attorneys.