What Are ELDs in Trucking?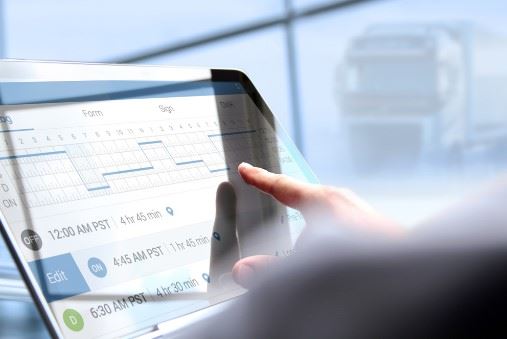 Fatigued driving among truck drivers is a huge problem that injures and kills a large number of innocent drivers every year. In an effort to curb the amount of preventable injuries and casualties caused by drowsy truck drivers, the Federal Motor Carrier Safety Administration (FMCSA) passed a new regulation (becoming effective in December 2017), which requires more than three million truck drivers to begin using electronic logging devices (ELDs) to record their hours behind the wheel. Rather than recording hours manually in a paper log, which can easily be falsified, electronic logging devices will link to the truck's engine and record how much time the trucker spends driving.
Why Are E-Logs Necessary?
While most truck drivers abide by FMCSA Hours of Service regulations, which stipulate that drivers are limited to a maximum of 11 hours of driving per day, some drivers ignore these rules and falsify their driving logs. These drivers will drive longer than they are allowed to in order to increase their profits. Unfortunately, this type of cheating is not a victimless action; the result is that drivers greatly increase the chance of a truck accident caused by falling asleep behind the wheel, drifting from their lane, or failing to brake in time to avoid an impending collision. There is also a heightened chance that these truck drivers may turn to illegal substances in order to stay awake and continue driving longer than they are supposed to, further increasing their risk of causing a collision.
The reason ELDs are expected to be so effective is that they cannot be falsified the way that paper logs can – they are a foolproof way to record exactly how much time truckers are spending driving per shift. The FMCSA estimates that the switch to electronic logging devices from traditional paper logs will prevent over 1,840 accidents, 562 injuries, and 26 fatalities each year. As an added benefit, the switch to ELDs is expected to eliminate over $1.6 billion in paperwork costs.
Is ELD Mandatory for Truckers?
According to the Federal Motor Carrier Safety Administration, all drivers and carriers who are listed as being "subject to ELD rules" must use ELDs starting in December 2019. Any truck drivers who fall into this category and are not using electronic log devices at this point are in violation of FMCSA regulations and will face steep fines.
Can Truckers Still Use Paper Logs?
No. Any truck drivers or carriers who are included on the FMCSA list may no longer use paper logbooks. However, there are some exemptions to the ELD rule.
What Trucks Are ELD Exempt?
According to the FMCSA the following carriers or truckers are exempt from the ELD rule as of December 2018:
Drivers who use paper logs no more than 8 days during any 30-day period
Driveaway-towaway drivers (with some exceptions)
Drivers of vehicles manufactured prior to 2000
The Truck Renting and Leasing Association (exemption expires October 11, 2022)
The United Parcel Service (exemption expires October 20, 2022)
The Motion Picture Association of America (exemption expires January 19, 2023)
Injured? Call Our Experienced Reno Truck Accident Lawyers
Viloria, Oliphant, Oster & Aman L.L.P. aggressively advocates for the rights of truck accident victims and their families. If you or a loved one has been injured in a trucking accident caused by a fatigued, distracted, or reckless driver, our team is ready to fight for the full and fair compensation you are due for your medical bills, pain and suffering, lost wages, and more.
To schedule a free consultation with a Reno truck accident attorney at our firm, please call us today at (775) 227-2280 or fill out an online case review form and we will be in touch with you soon.